Immigration Firms Can Now Automatically Track Priority and Expiry Dates with LollyLaw
We're thrilled to announce LollyLaw's latest features — Priority Date Tracking and Expiry Date Tracking. Law firms can now automatically track their clients' priority dates against monthly changes to the USCIS visa bulletin charts and be alerted of any changes, as well as track the expiration dates on crucial client documents, all from within LollyLaw.
Immigration firms are familiar with the struggle of having to manually check the constantly-changing government databases for updates to the USCIS visa bulletin and expiry dates. Depending on your office's specific needs and practice area, you may be juggling multiple timelines with each case type. Without precisely tracking deadlines, they can easily be missed, putting your entire case in jeopardy.
Now, all these dates can be automatically tracked in LollyLaw. 
Automatically Sync Visa Bulletin Priority Dates to LollyLaw 
LollyLaw's new Tracking tab allows you to add different case types under Priority Date Tracking to monitor eligibility dates for filing green card applications. These dates are automatically synced with USCIS visa bulletin charts, meaning immigration staff won't need to manually track deadlines for your clients, or rely on them to know their exact dates. If changes are made to the visa bulletin, they will be automatically reflected right in LollyLaw!  
Setting up priority date tracking is easy. In the Priority Date Tracking card, after entering information, users will be prompted to select the application type, fill out the filing method (adjusting or consular), the matter the tracker will be associated with, the preference classification, country of chargeability, and enter the priority date. 
LollyLaw's built-in reporting for Priority Date Tracking helps you identify green card eligibility across your firm based on the visa bulletin chart. By using the reports 'Eligible to File', 'Retrogression Report', or 'Upcoming Eligibility' you'll be able to easily prioritize your caseload.

Effortlessly Track Expiry Dates Across Cases 
With Expiry Date Tracking in LollyLaw, you can set up individual triggers to track upcoming expiration dates for your clients' immigration documents. Get notifications via in-app messages or email between 7 and 180 days before an action must be taken. By tracking the dates and setting alerts in LollyLaw, your firm can ensure a clients' status does not expire. 
Whether it's tracking visa expiration dates or work permit renewals, LollyLaw makes using expiry date tracking simple. Now your immigration law firm can have peace-of-mind, with the ability to track and be notified of multiple documents across all your clients automatically.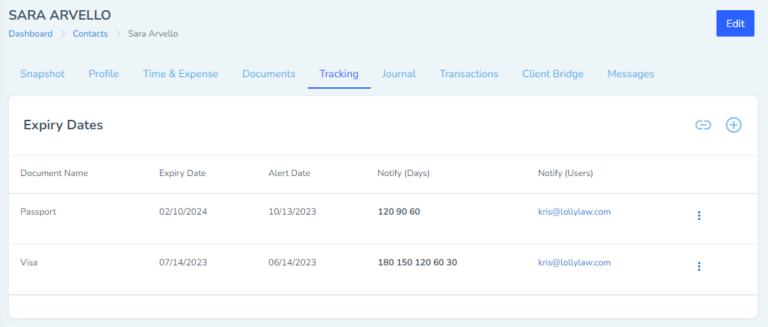 View All Tracked Dates in One Place
LollyLaw users can find both priority and expiry date tracking and receipts under the "Tracking" tab in any client contact record. Having the ability to monitor important dates in the same place you handle the rest of your case information allows law firms to efficiently keep up with ever-changing government deadlines. Learn more about priority date tracking and expiry date tracking in our help articles from our customer support team.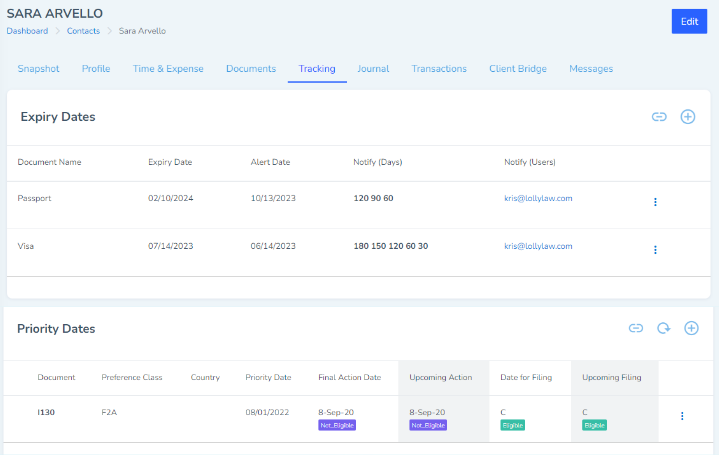 See These Features in Action: Get a Demo
If you're interested in learning more about LollyLaw's Expiry and Priority Date Tracking, as well as the other easy-to-use features, start your free trial and see it for yourself! If you'd like to see a customized walkthrough of LollyLaw, get a demo today.
Download as PDF
Want a copy of this article? Download it for free!
Discover The LollyLaw Difference
Level up your immigration law firm and scale your business
7-Day Free Trial
No Credit Card Needed