Seamless Law Firm Management to Keep You Organized
Meet deadlines. Get organized. Keep track of important details. LollyLaw is your secret weapon to control your firm's calendar, limit everyday distractions, and complete your tasks on time. It gives you easy access to client records and data and adds hours to your day.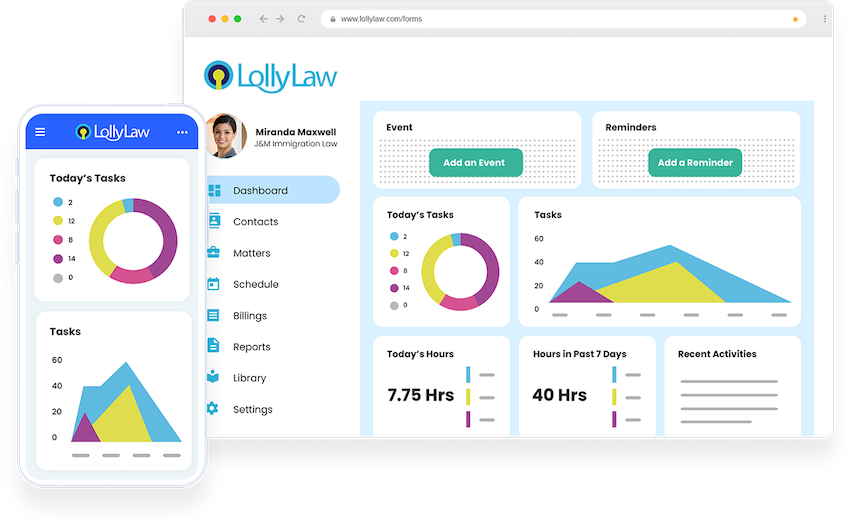 Improve Your Firm's Productivity and Quickly Close Cases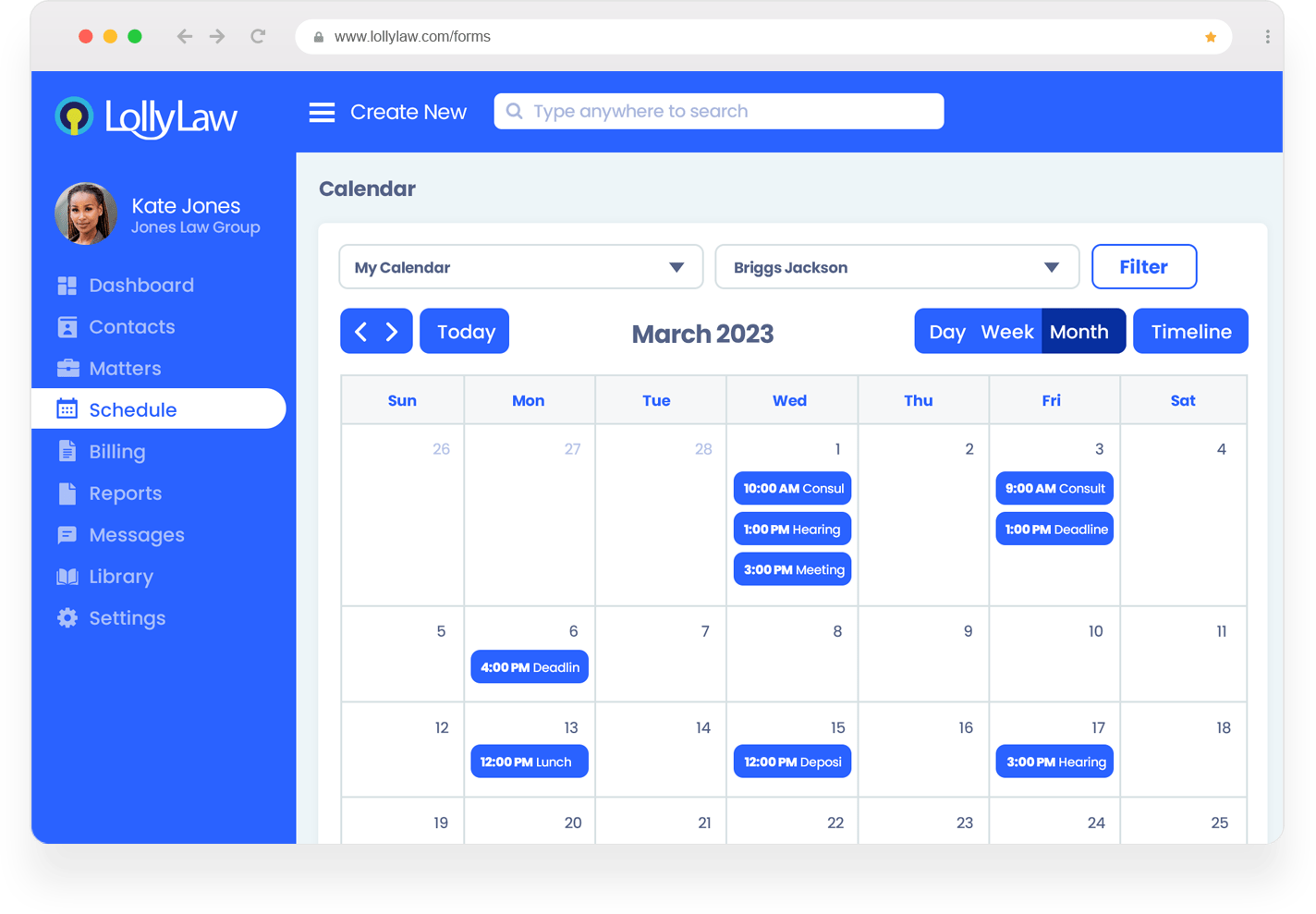 Enhance Case Visibility with Firm-Wide Calendaring
Incorporate reports, time-tracking, and billing into a single schedule and save everything in a built-in journal that logs every detail of your cases. Everyone on your team has all the information they need to keep your cases moving forward and deliver exceptional service every time.
Never Miss a Deadline with Automatic Reminders
Automated reminders allow you to meet every deadline with time to spare by sending you an alert based on case milestones. Promote consistency by sharing these reminders with your staff, so everyone is on the same page. You can even integrate LollyLaw with the calendars you're already using, like Outlook Calendar or Google Calendar.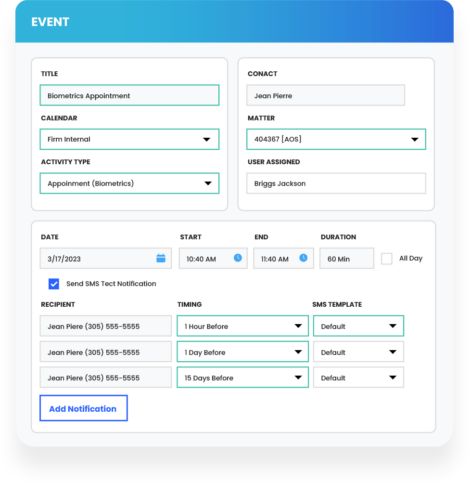 Track Every Detail of Your Firm's Performance
Generate Business Insights From Powerful Reports
LollyLaw's powerful reporting tools give you insight into your firm's workflow. See what's working, what isn't, and how you might fix inefficiencies to achieve greater service and profitability. Advanced filters give you the information you need when you need it so you aren't wasting time sifting through dozens of folders and files.
Use the Journal to Simplify Case Record Tracking
Use the journal to get a bird's eye view of recent activity or try one of the filters to quickly find the information you need. Log every time entry, email, document, and note in the journal and share it with your team. Maintain a more organized case portfolio to eliminate mistakes or delays that can take weeks to correct or, worse, derail your case.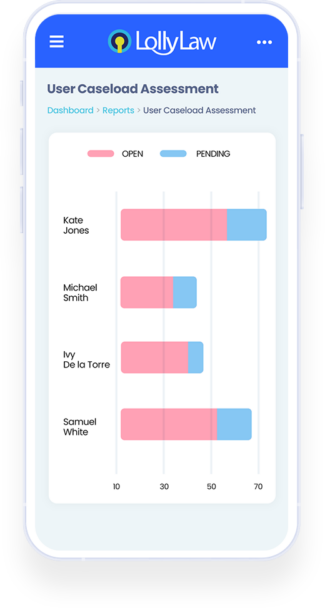 Take the Guesswork Out of Law Firm Management
Spending hours searching for a report, scrambling to meet a tight deadline, and losing track of critical case details can cost your clients their cases and your firm its reputation. Maximize your firm's efficiency and organization by assigning automated reminders, working in tandem with your staff, and gaining insight into your firm and clients.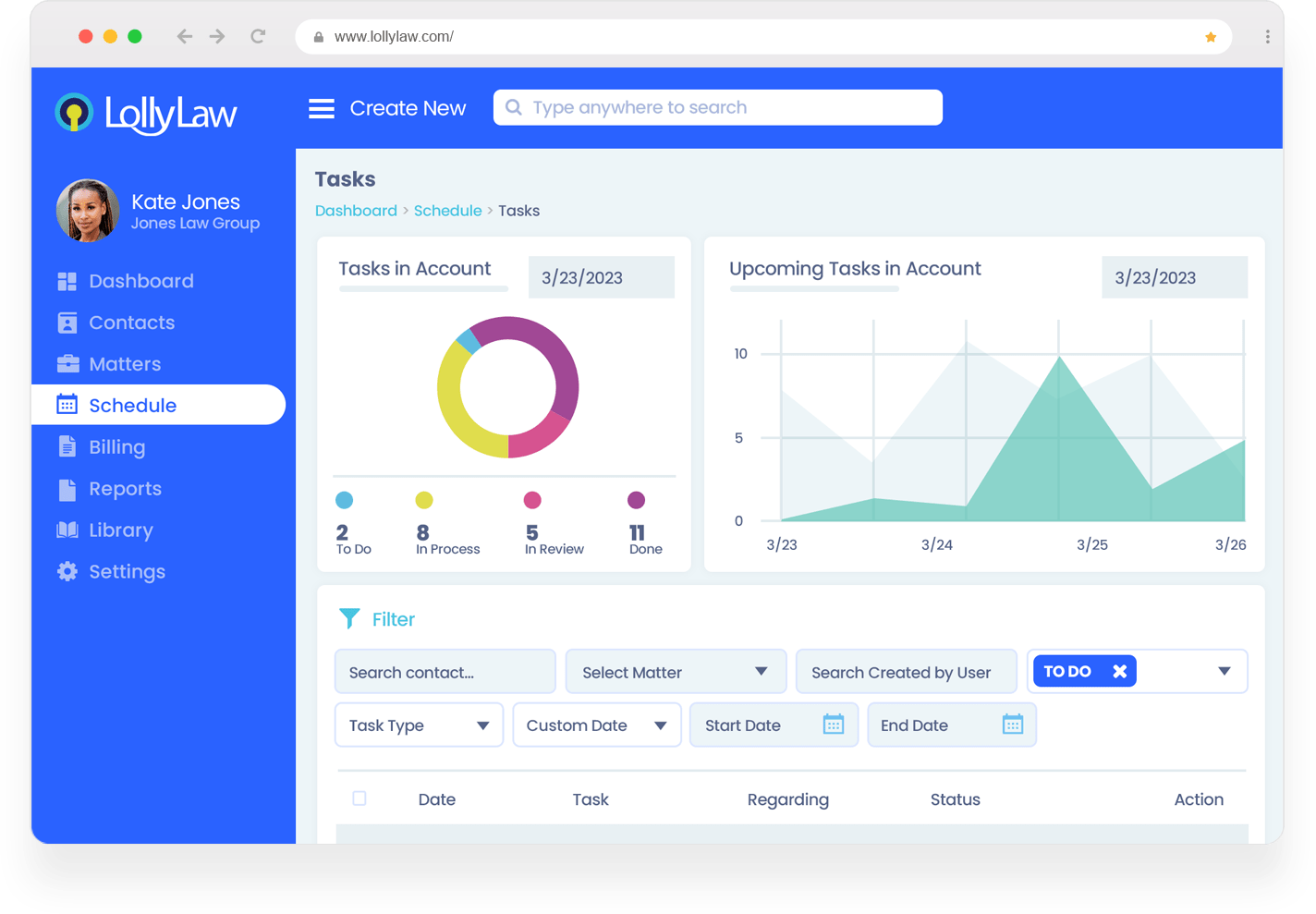 Any questions? We got you.
Learn more about how you can maximize your firm's efficiency with these frequently asked questions!
Craft and maintain your schedule to reflect your firm's unique workflow by:
Allowing your team to oversee current activity, time-tracking, billing, and records

Enabling collaboration among your team members

Setting reminders to complete tasks and meet deadlines

Gaining insight through fact-based generated reports 
Yes. When you craft your schedule, this information can synchronize to Google Calendar or Outlook Calendar. Your firm can work off the same schedule, with events appearing right on the calendar apps they're most comfortable with.
Yes. Plans change all the time, and LollyLaw can pivot to accommodate these changes. If a deadline gets pushed back, you can reassign the reminder accordingly. You can rest easy knowing you won't miss a deadline just because it changed.
The journal in LollyLaw is a centralized location where you can track all things legal. That includes documents, notes, emails, and time entries. You can even add your staff to collaborate.
You can also use the journal's filters to find the information you need. Do you want to oversee all the activity from a particular case or look at a certain date range? LollyLaw gives you the tools and freedom to stay organized in whatever way works for your firm.
The Highest Rated Immigration Software On G2
The absolute best customer service!
"LollyLaw wins with its clean and user-friendly interface, immigration-specific workflow customization, and built-in payment processor. Also, the customer service LollyLaw provides is the absolute best – they are super responsive, accessible and helpful with anything we need. I honestly couldn't recommend LollyLaw more to immigration attorneys. We are so glad we made the switch."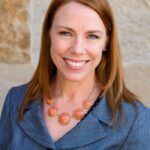 Attorney
JLW Immigration Law Group
Easy to Use Software and Fantastic Support Team
"LollyLaw has a fantastic support team. I was given an account manager, who was extremely responsive and very knowledgeable, not only with the software, but with immigration issues and how best to use the software for real-world legal application. The software is pretty direct and easy to use, but if I ever have issues I know from experience that my account manager will be available to walk me through each process."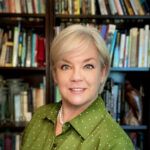 Attorney
Russell Immigration Solutions, LLC
True definition of an all-in-one software for immigration lawyers!
"We love that LollyLaw is immigration-specific. It's user-friendly, has a strong customization ability, and includes everything from immigration forms and client management to time tracking, reporting, billing, and more. The benefit is having an all-in-one platform—we no longer need four or five different systems to manage our practice."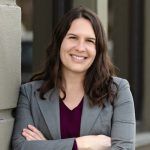 Attorney
Moss Immigration Law
Discover The LollyLaw Difference
Level up your immigration law firm and scale your business
7-Day Free Trial
No Credit Card Needed