In any legal matter, the time between services rendered, invoiced, and paid is critical to the productivity and profitability of a law firm. If invoices aren't sent in a timely fashion, not only can a law firm's cash flow dip, but it can also impact staff's most valuable resource — their time. Having to explain an invoice in detail weeks later, or chase after a payment from a client means less time to practice law and serve others. 
In order to cut down on the time it takes to send invoices and collect payments, LollyLaw's built-in payment processor, LollyPayments, comes with two unique features — QuickBill and OneLink. These latest additions increase invoicing efficiency, allowing clients to pay easily and firms to get paid faster. Let's explore how QuickBill and OneLink work.
QuickBill Lets Law Firms Generate, Approve, and Process Payments All on One Screen
With LollyPayment's QuickBill feature, law firms can instantly generate, approve, and process a payment on an invoice in under 30 seconds. Rather than going through the traditional case billing process which can require navigation through multiple tabs, or in some cases, multiple software systems, LollyLaw's QuickBill invoicing process takes place all on one screen — making it simple for any employee in your law firm to complete a payment on the behalf of clients. QuickBill is perfect for a variety of common daily occurrences at a firm.  
For example, if a prospective client comes into your office or calls you and wishes to have a consultation, your staff can simply open up QuickBill (seen below) and enter the prospect's contact and payment information. Once the QuickBill fields are populated with payment details, users can generate an invoice and process payment with the click of a button. For larger engagements, immigration attorneys can also consider creating payment plans for their clients within QuickBill, giving clients the flexibility to pay in smaller increments over time.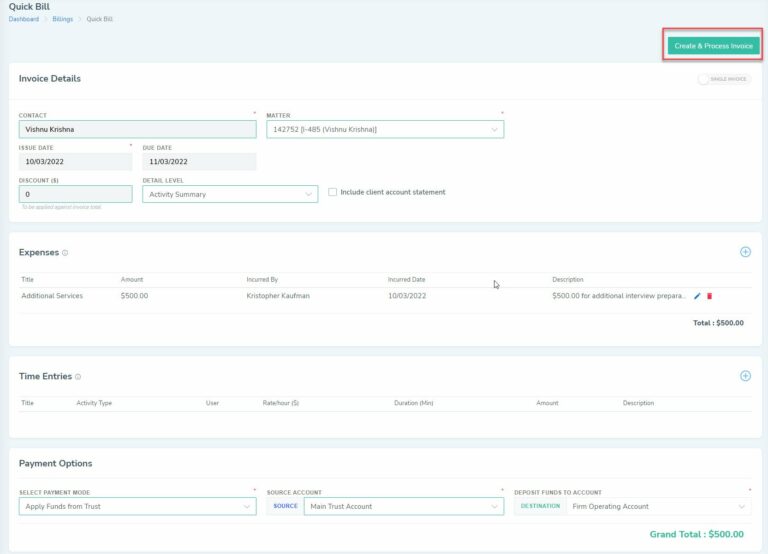 Collect Payments Quicker & Track Leads with OneLink
LollyPayments is equipped with another unique feature, OneLink, to allow law firms to collect payments via a unique hyperlink that can be placed anywhere they'd like. OneLink's main function is to help collect payments online — but it has a secondary function and can act as a lead generation and marketing tool. Let's check out how OneLink works.
Create Customized and Unique Payment Links
OneLink gives immigration law firms the opportunity to create a custom URL for specific types of payments across the firm, such as meeting fees, USCIS filing fees, and more. OneLink allows law firms, if desired, to configure these links to pre-set amounts, allowing clients to pay quickly and compliantly for flat-fee services with just a few clicks.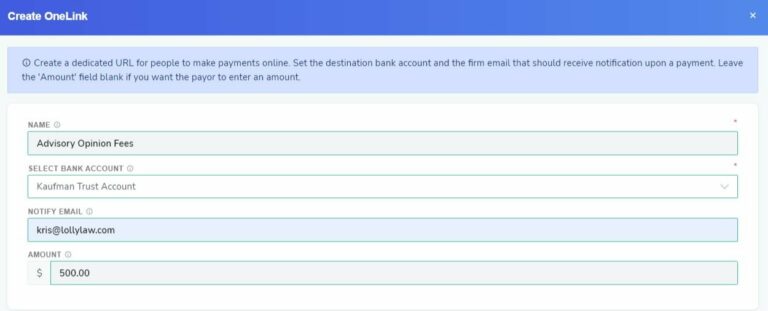 Reduce Client Onboarding Time
LollyLaw's OneLink can also be used to speed up your onboarding process. A generated OneLink can be placed in several areas, such as the firm's website or staff's email signatures to collect consultation fees prior to client intake. Not only does this help secure the lead as a customer, but it provides you with crucial contact and payment information upfront — allowing you to get to work faster.
Generate Invoices and Get Paid Faster with QuickBill & OneLink
To reduce the amount of delayed or missed payments in the future, law firms can implement LollyLaw's QuickBill and OneLink features. This powerful combination helps law firms eliminate unnecessary invoicing and billing roadblocks and empowers clients to pay faster by offering a convenient solution.
If you're an existing user and want to learn more about QuickBill and OneLink, activate LollyPayments today and try it for yourself. If you're looking to explore more about LollyLaw, start your free trial or book a customized demo with our team today.
Download as PDF
Want a copy of this article? Download it for free!
Discover The LollyLaw Difference
Level up your immigration law firm and scale your business
7-Day Free Trial
No Credit Card Needed