LollyLaw Launches Native Business Texting to Help Law Firms Communicate with Clients More Effectively
Immigration attorneys know that effective communication is key to providing the best possible service to your clients. While email is a common choice of communication today, it can be slow and cumbersome. According to Textline, it takes 90 seconds for someone to respond to a text, compared to taking 90 minutes to respond to an email. 
By leveraging the convenience of LollyMessaging, our powerful text messaging feature built into LollyLaw, attorneys can reduce the waiting time for an email and streamline the overall communication process. Furthermore, LollyMessaging allows attorneys to schedule and manage appointments with their clients, send automated reminders for upcoming meetings, and easily monitor their communications, making law firms more efficient and productive.
Reach Your Clients Anytime, Anywhere with Native Business Texting
When you enable LollyMessaging, you'll be given a texting-specific phone number that your clients can use to text your law firm rather than your personal phone number. This not only helps protect your privacy but also makes it easier to track and organize your conversations with clients within LollyLaw. Each conversation is logged and linked to the associated client, so you can easily refer back to previous conversations and keep track of important information. You may also track the time you spent texting your clients by using the time tracker to ensure all billable time is captured.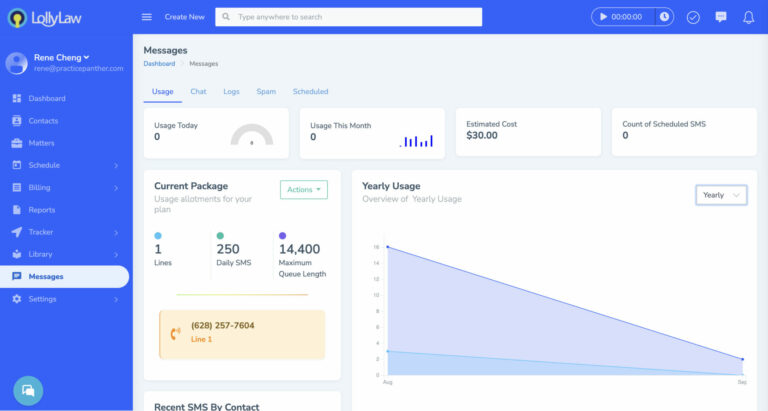 Whether you need to share a case update or require your client's immediate attention to a document, you can simply send a text message via LollyMessaging and receive a response more quickly than you would have through email. This convenience allows you to keep your cases moving forward smoothly and can prevent unnecessary delays.
How LollyLaw's Native Business Texting Can Be Used
There are two main types of messages that you can send with LollyMessaging: automated messages and manual messages. Let's explore how they work.
Automated Messages 
Automated messages allow you to set up recurring text reminders for your clients, such as appointment reminders or deadlines for documents. These messages can streamline case progress by eliminating the need for multiple emails back and forth. With automated messages, you can ensure that your clients stay informed and on track.
To ensure automated text messages are sent at the correct time, you can set send parameters. To do so, simply click the clock icon located under the text box. From there, you can choose the time and date that you would like the message to be sent to your client.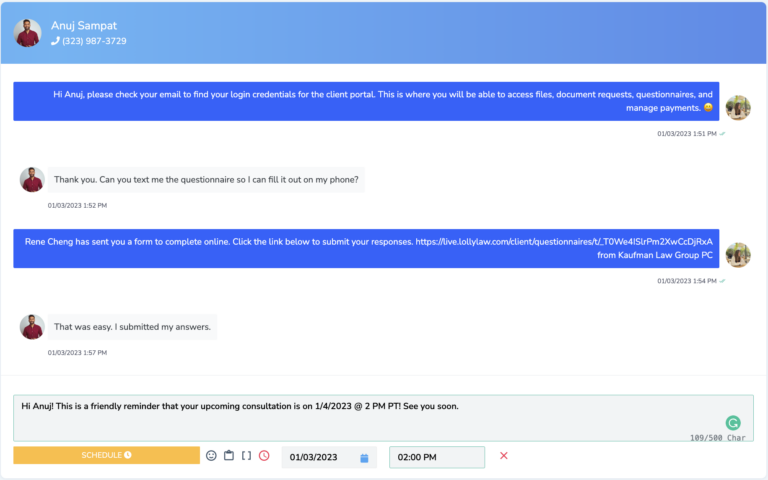 Manual Messages
On the other hand, manual messages serve as ad-hoc text messaging that allows you to send necessary case information to your clients instantly. This can be especially useful when you need to share important documents or updates with your clients in a timely manner.
Leverage Business Texting to Streamline Case Progress 
LollyMessaging is a game-changing solution that can help law firms improve communication with clients. If you're already a LollyLaw user, enabling LollyMessaging is quick and easy. Simply log in to your account and follow the prompts to get started. If you're new to LollyLaw, you can try out LollyMessaging with a free trial or book a time with our team.
Download as PDF
Want a copy of this article? Download it for free!
Discover The LollyLaw Difference
Level up your immigration law firm and scale your business
7-Day Free Trial
No Credit Card Needed