LollyLaw Modernizes Immigration Form-Filling with Real-Time Client Collaboration Feature
It's no secret that one of the most laborious parts of immigration case work comes during the form-filling process. Packed with information that can often be tough to compile, attorneys and clients alike are on the hook to complete immigration forms right the first time, or run the risk of an unsuccessful immigration filing.
With these stakes in mind, LollyLaw is proud to introduce our first-to-market, real-time form collaboration feature, LollyForms. This native feature automates form-filling and allows immigration attorneys and clients to work collaboratively in real-time during the form completion. Additionally, LollyForms ensures that attorneys are using the most up-to-date edition of government forms by prompting them of the latest changes directly in the app. With LollyLaw, immigration attorneys never have to worry about applications getting denied simply because of outdated forms — let's uncover how LollyForms work.
Complete Set of USCIS, DOJ, EOIR, Forms All In One Place
LollyLaw offers the most expansive set of immigration forms with over 125 USCIS, DOJ, and EOIR forms at your disposal — making it easy for immigration attorneys and clients to locate and access the correct immigration forms for any case type by doing a simple search. All forms are automatically updated within an hour of new version releases, so attorneys can ditch the hassle of hunting down the most recent versions elsewhere and can rely on accuracy from LollyLaw.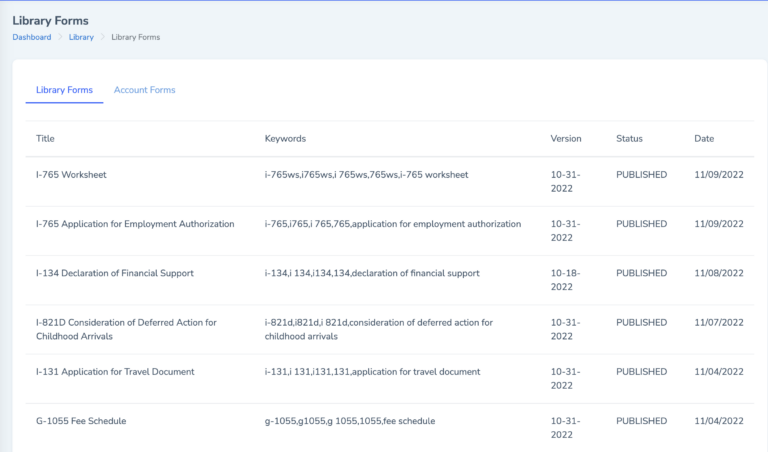 Synced Contact Data Automatically Populates in Forms
LollyForms empowers immigration attorneys to speed up the form-filling process by automatically syncing data from LollyLaw contacts into forms. Information such as first name, address, employment information, and passport number, which often requires documentation across many forms, will automatically populate — saving clients time and getting them one step closer to filing. 
Whenever there are new government form updates, LollyForms can sync data from the outdated form into the new form version with just a few clicks. LollyForms notifies users of form changes by marking prior editions as "Sunsetting" or "Expired" and prompts users to upgrade that form to the latest version. By working in LollyForms, clients no longer have to duplicate their efforts if a new form gets released while in the middle of a case.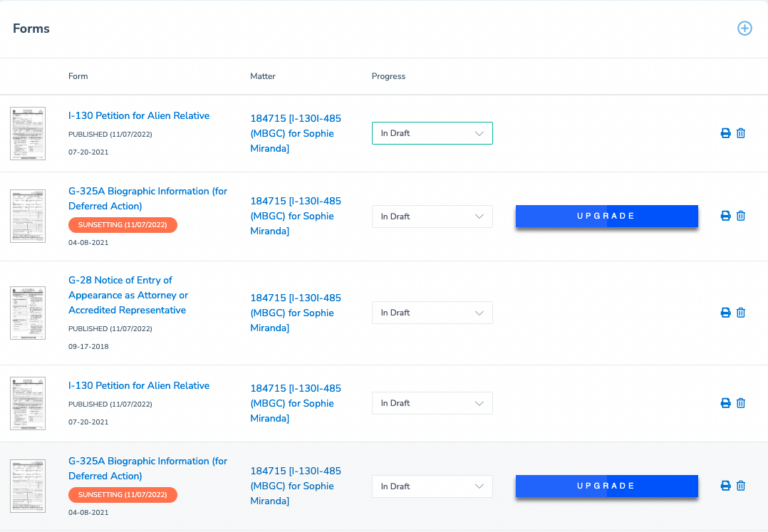 To further streamline the form-filling process, immigration attorneys can pre-set and assign roles before allowing clients to fill out any immigration forms. By assigning roles like the applicant, attorney, and family members prior to form-filling, LollyForms will auto-populate assigned roles throughout the entire form — letting form-fillers to focus on only their roles instead of the entire document.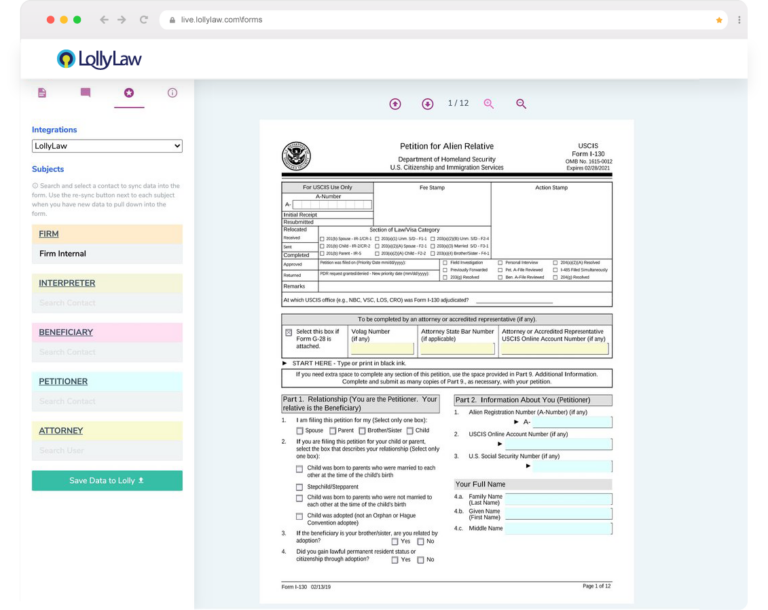 Populate and Edit Forms with Clients In Real-Time
LollyForms allows immigration attorneys and clients to collaborate on each form in real-time to reduce tedious back-and-forth communication while maintaining version control of every form. Each form can be filled out through the web in a live collaboration mode, so attorneys can ensure the client's information is filled out accurately. Think of it as simultaneously working on a Google Doc, but for Immigration PDF forms.
For example, if a client is unsure of what to put under "Legal Name Changes," their attorney can access LollyForms at the same time and type the correct information in. Aside from filling out forms together, LollyForms is equipped with a real-time chat messaging box which lets clients ask questions directly in each form.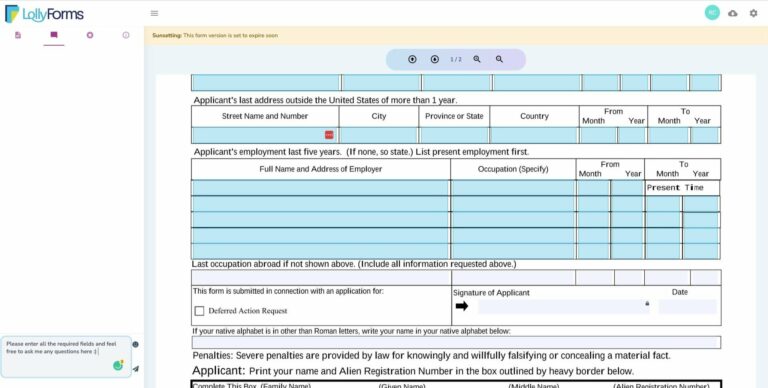 LollyLaw Transforms and Modernizes the Outdated Form-Filling Process
It's important for immigration attorneys to stay on top of using the most recent form versions and ensure clients are filling out information accurately and in a timely manner. With LollyForms, immigration attorneys and clients alike can access the most expansive set of form libraries with 125+ forms to choose from, and collaborate in real-time to complete necessary forms.
If you're currently struggling with the form-filling process, start your free trial today and see how LollyForms can help, or book a customized demo with our team to learn how your law firm can benefit from this feature. 
Download as PDF
Want a copy of this article? Download it for free!
Discover The LollyLaw Difference
Level up your immigration law firm and scale your business
7-Day Free Trial
No Credit Card Needed