LollyLaw's Client Portal Simplifies Intake with Expanded Questionnaire Database
The most critical interaction for immigration lawyers often comes during client intake — where not only is new business either won or lost, but key information that can determine the outcome of an immigration case is obtained from the client. This crucial step of client intake will either make or break a fundamental part of an immigration firm's ability to adequately serve their clients and grow their books of business.
Luckily, LollyLaw has now made client intake easier than ever with our expanded database of customizable immigration questionnaires. Built right into our native client portal, the Client Bridge, our 100+ intake questionnaires can be translated to over 20 languages and sent to clients via SMS or email–and that's not even the best part. Once a client has been onboarded, LollyLaw's Client Bridge allows firms to continue to seamlessly interact with their clients through task assignments, status updates, payment processing, and more. Let's explore how it works.  
Streamline Your Client Intake with the Client Bridge 
Having a streamlined client intake process can set the tone for you and your clients' working relationship. It's important for law firms to showcase their professionalism and expertise in handling any case from the very first interaction. To get started on cases quickly, attorneys can send onboarding questionnaires to clients via email or text to gather any information upfront. 
Once more detailed information is required, LollyLaw's Client Bridge provides clients access to immigration-specific questionnaires, as well as pre-set required document lists related to each case, such as passport or photo ID. With LollyLaw you'll be able to handle anything that comes through your firm's door.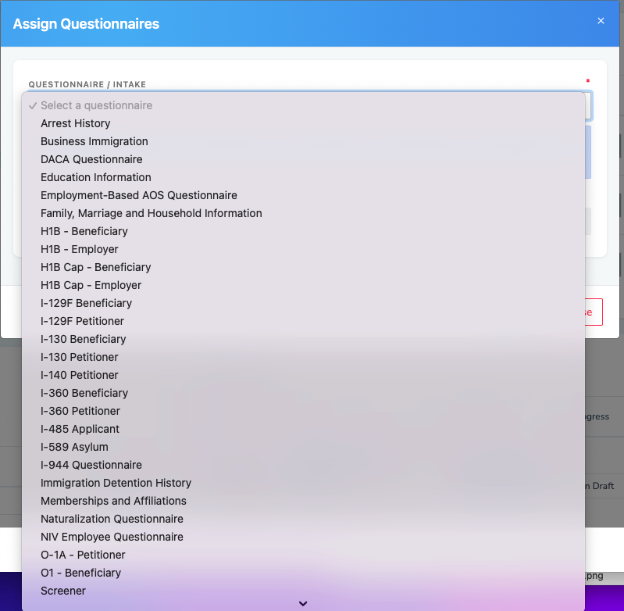 Access Customizable & Multi-Language Questionnaires 
LollyLaw offers the most robust solution in the industry when it comes to intake questionnaires. With a library of 100+ questionnaires that are translatable to 20+ different languages, immigration attorneys can overcome common language barriers by allowing their clients to choose their preferred language within the Client Bridge. Clients receive a convenient experience, and attorneys get important information quickly. 
Law firms can also customize questionnaires based on each case type's needs and requirements to avoid clients entering information that are not relevant to their cases. Attorneys are able to turn off all questionnaires, if their staff would prefer that clients do not input any information on their own.
If a case requires multiple questionnaires with the same information, LollyLaw saves both the client and the firm time by populating forms with previously logged client information, such as name and date of birth which can be found across multiple forms.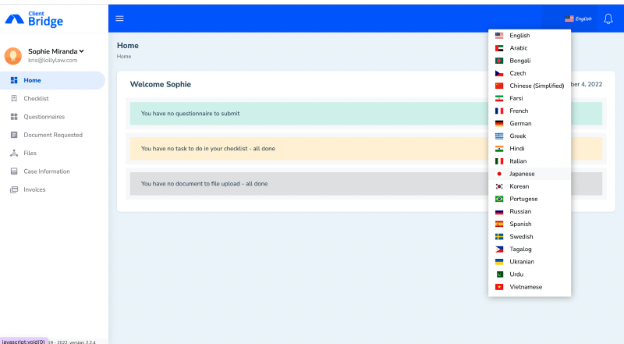 Easily Customize and Request Required Documents 
Alongside the necessary forms needed for an immigration case, there are often a whole host of documents needed to get a case completed. In LollyLaw, your firm can create custom lists to request required documents without having to manually recreate those lists for every case. 
For example, if you're working on H-1B cases for several clients, you can request all necessary documents with a few clicks by adding your document list to their Client Bridge.
Once added, your client will see the list of documents needed and be able to upload them directly to the Client Bridge. They can also be prompted via SMS or email to complete their requested documents if they have not done so.

LollyLaw's Translatable Client Bridge Helps You Work More Efficiently
Getting an immigration case across the finish line requires many different steps, each of equal importance. Form filling, applying for visas, waiting for government approval, conducting medical examinations — everything can be tracked and managed in LollyLaw. The Client Bridge is designed to make sure you and your client don't miss any step along the way. 
Assign Tasks For Clients 
The Client Bridge serves as a workspace for your clients, whenever you need to request information, you can simply assign tasks that they can complete in the Client Bridge. Your clients can access the Client Bridge to work on their assigned tasks anywhere with an internet connection, on any device. Once the clients' tasks are completed, you will be notified and can move to the next step, keeping everyone on the same page.
Enhance Client Communication with Automated Notifications
Law firms can also utilize the Client Bridge to set automatic event and appointment reminder text messages for clients. Law firms can pre-set reminders to one or more recipients and even schedule multiple reminders to clients days, hours, or minutes before an event.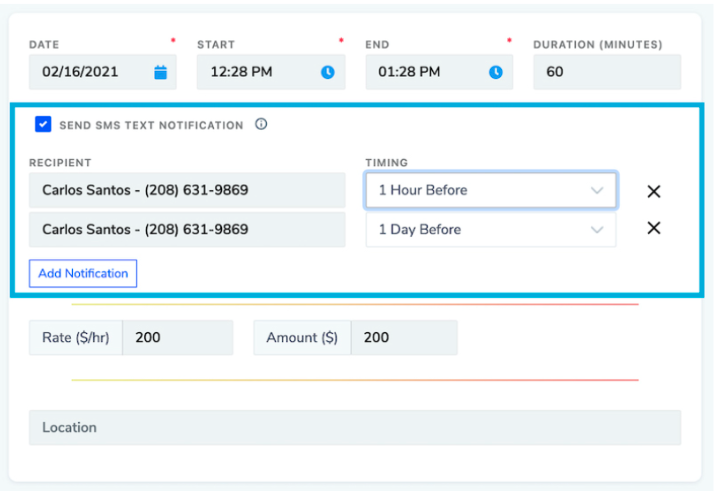 Accept Online Payments 
Within the Client Bridge, your clients can also view and pay invoices using our native payment processor, LollyPayments. LollyPayments offers the widest range of payment options in the immigration space, so you can rest assured that your clients can easily pay you in the way that's most convenient for them.
Improve Your Attorney-Client Relationship with LollyLaw's Client Bridge 
Staying on top of communication with your client is the best way to avoid delayed filings and bottlenecks throughout the immigration process. LollyLaw's Client Bridge comes stocked with everything you need to get your clients onboarded smoothly and your cases across the finish line with ease. Streamline your client intake and improve your communication with your clients in one convenient place with LollyLaw's Client Bridge. 
If you're interested in learning more about LollyLaw's Client Bridge, as well as the other easy-to-use features, start your free trial and see it for yourself! If you'd like to see a customized walkthrough of LollyLaw, get a demo today.
Download as PDF
Want a copy of this article? Download it for free!
Discover The LollyLaw Difference
Level up your immigration law firm and scale your business
7-Day Free Trial
No Credit Card Needed