At LollyLaw, we recognize immigration firms are often balancing unique needs as it pertains to managing their client's ability to pay for legal services. Whether attorneys are working on a family or business immigration case, providing access to quality legal representation regardless of a client's payment needs, has long been considered a tenet for many law firms.
To address this challenge specifically for immigration attorneys, LollyLaw is proud to now offer its customers the widest array of client payment options in the industry — including robust payment plans with multiple ways to accept payment. These additions enable immigration attorneys to offer clients payment flexibility in any circumstance.
Use Payment Plans To Provide Flexibility For Your Clients and Increase Your Collection Rates
LollyPayments can have a positive impact on your law firm's finances with the ability to quickly implement and manage payment plans. It's designed with convenience in mind, and allows your firm to create custom payment plans in under 30 seconds! As immigration attorneys, you understand the impact that making smaller payment installments can have on a client — now it's possible to provide this convenient service in LollyLaw in mere moments.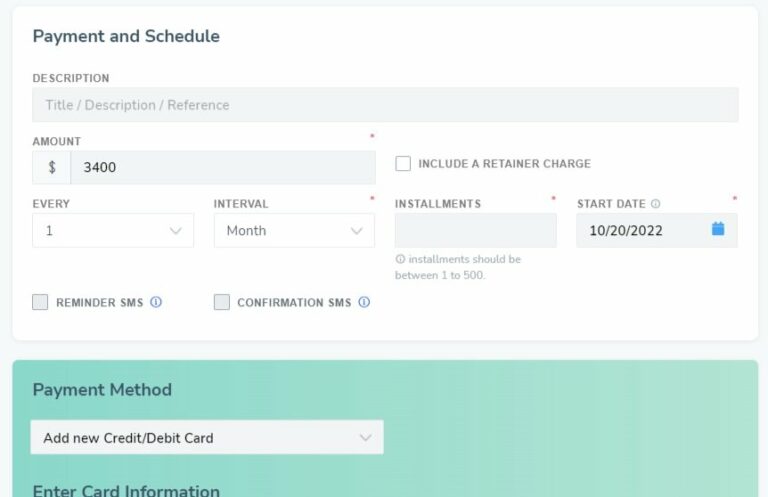 LollyLaw's payment plans are extremely customizable — they can be set up to automatically run a payment, or your clients can be notified when payment is due so they can manually run each payment for greater control. The customization doesn't stop there, let's explore all the ways your clients can quickly pay you, and how you can keep track of those payments right within LollyLaw.
Provide the Widest Range of Payment Options to Clients to Get Paid Quicker than Ever Before
Whether your clients decide to pay the bill in full or through a payment plan, they can pay via multiple methods: 
Text messaging/SMS via their phone
QR codes on invoices to pay online 
Access their invoices to pay within the customized client bridge portal, a great option for non-English speaking clients. The portal can be translated into more than 20 languages!   
Once your client has been notified of a payment request and accessed their unpaid invoice, they can choose their preferred option to pay. LollyLaw offers the widest range of payment options for your clients, they may pay via: 
Credit card
ACH 
eCheck 
Paper check or cash, if necessary 
How Your Clients Can Make Payments in LollyLaw
Submit payments via SMS Text Messages
For manual scheduled payments, your clients can submit and authorize the scheduled transaction via SMS text messages. You have the option to set up text message reminders for your clients to authorize the scheduled payment, and can set up confirmation text messages to notify your clients of successful payment transactions.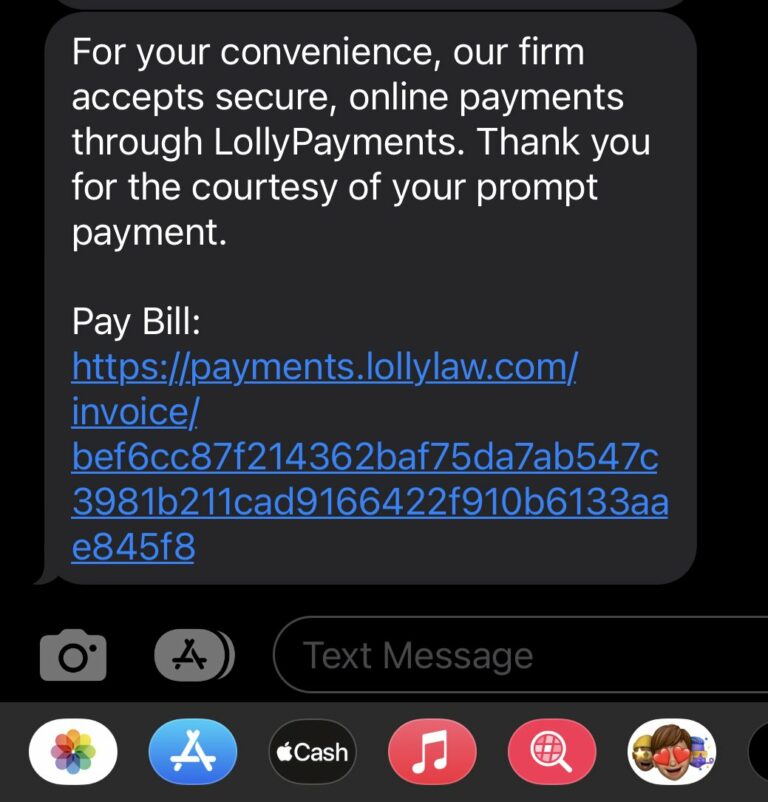 Submit payments via QR Code 
Your clients may submit their payments directly via a QR code within their invoice. The QR code is visible on every invoice, so whenever a scheduled payment deadline is approaching, your clients can simply scan the QR code with their mobile device and submit their payment.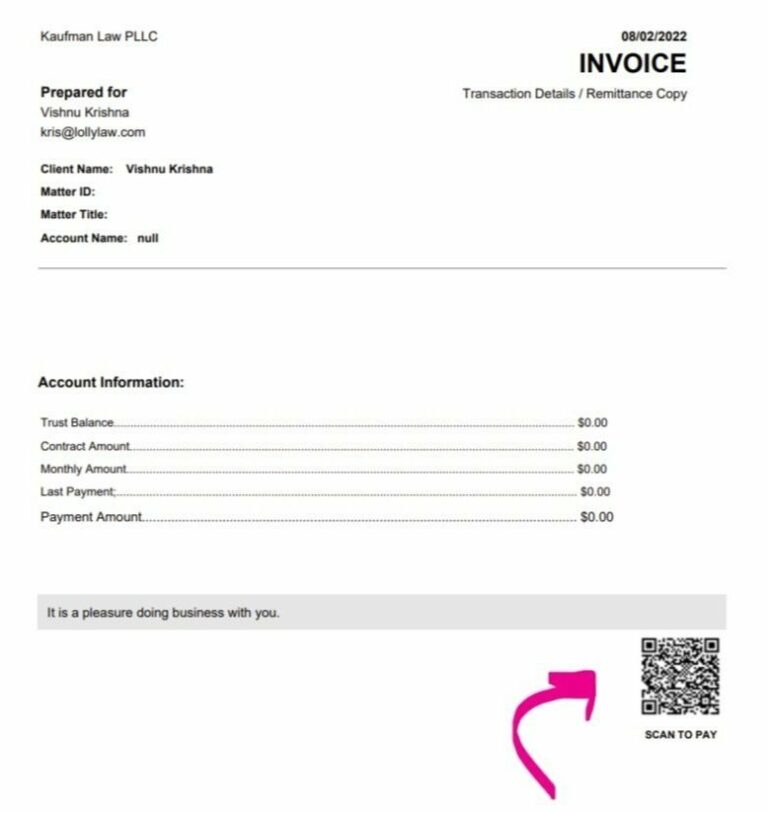 Submit payments via Client Bridge Portal
On top of paying invoices via text messages and QR codes, you may also request and accept payments from the Client Bridge portal via email. With this option, your clients can pay their bills by clicking "View Bill & Pay Online" in the email body. Then, the client will be redirected to the invoice page where they can pick their preferred payment method to submit payment.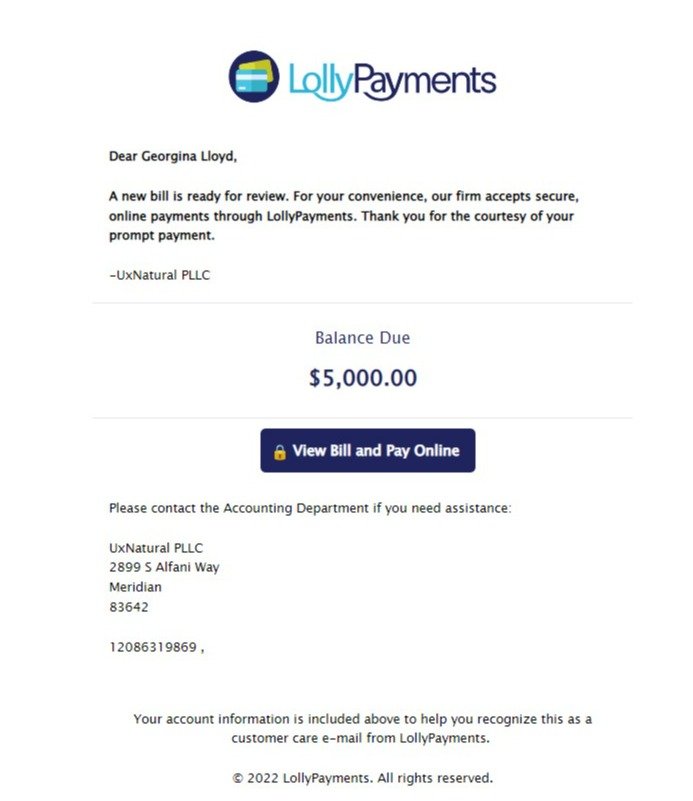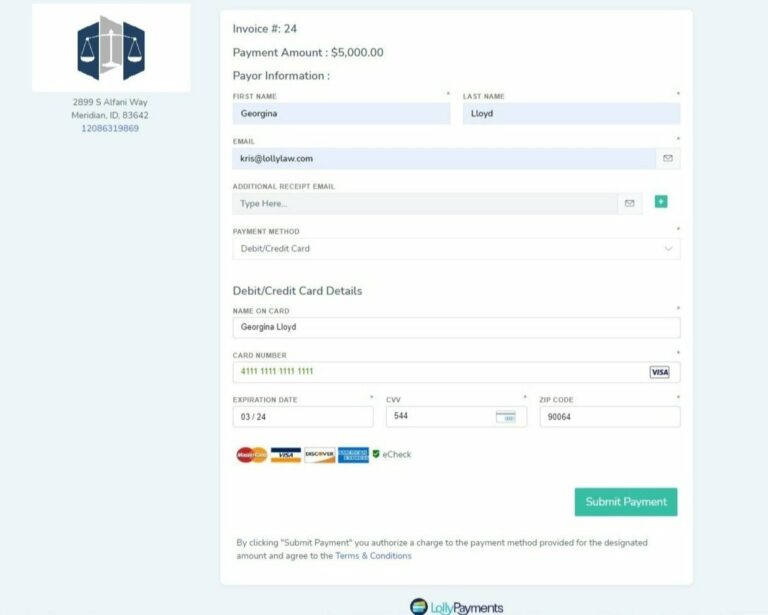 Gain Full Visibility into Scheduled Payments
Using LollyLaw's built-in payment plans tracking and alerts provide one of the most efficient ways to ensure your law firm's collections are in order. By tracking payment status and sending upcoming payment alerts to clients, law firms can gain a holistic view of their finances — and better predict incoming cash flow. This level of payment tracking also helps you to internally prioritize work towards clients who are actively keeping up with payments. 
In addition, your clients can view past invoices, payments, and all scheduled payment plans in the secure and multi-language supported Client Bridge portal — making it easy for them when they are dealing with finances.
Ease Your Client's Financial Burden & Get Yourself Paid On Time, Every Single Time 
With LollyLaw's Payment Plans, law firms can relieve the stress of chasing after missing payments. The Payment Plan feature is designed to ensure law firms are getting paid on time while giving the clients the flexibility to pay in smaller installments. LollyPayment's Payments Plan feature offers multiple ways to submit scheduled payments — SMS, QR codes, and the client portal for payment tracking. Payment plans can ultimately boost your client's satisfaction, increase your law firm's reputation, and bring in more clients and businesses to your law firm. 
If you're interested in learning more about Payment Plans in LollyLaw, as well as the other intuitive and easy-to-use features, start your free trial and see it for yourself! If you'd like to see a customized walkthrough of LollyLaw, get a demo today.
Download as PDF
Want a copy of this article? Download it for free!
Discover The LollyLaw Difference
Level up your immigration law firm and scale your business
7-Day Free Trial
No Credit Card Needed